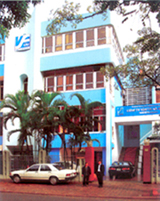 The Transport and Chartering Corporation (VIETFRACHT), formerly known as Vietnam Foreign Trade Transportation Corporation, was incorporated on February 18th, 1963 as a State owned company, and with effect from 2 October 2006, it changed to a joint stock company pursuant to the Decision of the Vietnamese Authority with the unchanged title of Transport and Chartering Corporation
(VIETFRACHT).

Over 60 years of development and growth, Vietfracht has been known as one of Vietnam's leading shipping and forwarding companies operating worldwide in various fields. As a result, it has won many noble awards from State and the Government of Vietnam and many precious titles such as : "Honorable Title of the Labour Heroic Unit", "First Class Labour Medal", "Third Class independence Medal", "The National Golden Cup for Social Progress and Sustainable Development", "Qualified and Prestigious Enterprise Of Vietnam in 2006" and "The Vietnam Famous Trademark Winner".
During the 2005-2015 period the Vietfracht defines and boosts our objective to "a new higher level": Expansion of business operations in line with diversification of services, strong focus on human resources development, investment in upgrading transportation means, improvement of infrastructure, office facilities and informatics systems, participation in capital contribution for the establishment of joint venture, joint stock and subsidiary companies.
The Company deems it necessary to improve quality service for satisfying ever increasing demands of customers with all of our activities are subject to ISM code and ISO 9001:2008 rules.
Vietfracht always wishes to constantly strengthen, actively co-operate and expand business operation with partners all over the world.
Scope of business:
Carriage of goods by sea; chartering, brokerage and related services; shipping agency, logistics and forwarding agents for air, sea, land, container, including multi-modal transport services in accordance with authorization of shipowners, principles and cargo owners; direct import and export of goods for transport industry; transport of goods by land; warehousing, container freight station (CFS), container yards (CY), consolidation of goods; international express service (including heavy cargo and goods above 31.5kgs, technical and scientific material, commercial documents, products, sample of goods, commodity); booking agent for domestic and international airlines; shipchandling (provision, food, fresh water, material, equipment, bunker, lubricant, dunnage and separation material); entertainment service for passengers and seamen (except bar, karaoke and dancing service); pick-up, immigration and change of seaman service; forwarding service of ship's spare parts; tallying of goods; maritime brokerage; real estate business (except for land price consultation); Warehousing, open storage, office, accommodation for lease; shoveling, carrying, leveling ground surface for mineral exploitation and construction; temporary import for re-export; triangle trading; forwarding service of export and import goods; customs clearance service.